IDIADA Dynasoft is a software solution that facilitates the process of analyzing and reporting of data from vehicle dynamics tests. It is developed as a NI DIADEM toolbox and combines available international standards with IDIADA's expertise in the development of custom procedures and KPIs.

Efficient generation of reports following an intuitive process
One tool for governance of all vehicle dynamics standards and protocols worldwide
Enhanced control of metadata related to project, vehicle, test instrumentation and test conditions
Agile data comparison between vehicles and projects

MORE INFORMATION

Dynasoft is a toolbox based on NI Diadem and has a user-friendly interface, logically designed to facilitate an efficient workflow from project definition to results generation.

Through the automatization of several steps of the process, and the correct management of metadata, the software prevents the chance of human error and reduces reporting time.

The tool provides full control of the analysis process, including the possibility to perform data checks based on the test definition and a comparison of results from different datasets or projects.

Dynasoft is therefore used for a complete characterization of vehicle dynamics performance and for the validation of homologation requirements in various markets worldwide.

TECHNICAL DATASHEET

Handling
Step Steer
ISO 7401
Steady State Circular
ISO 4138
Frequency Response
ISO 8726
Pulse Input
ISO 7401
Continuous Sinusoidal Input
ISO 7401
Single Step Steer
ISO 7401
Slowly Increasing Steer
ISO 4138
Trapezoidal input
Comfort
Comfort Random
Comfort Deterministic
Pitch Evolution
Steering
On Centre - Weave
ISO 13674-1
On Centre - Transition
ISO 13674-2
Parking Steering Effort
GOST 52302
Returnability
Sine
Turning radius
Steering Modulation
GOST 52302
Stability-Rollover
Slow Input
FMVSS-126, EuroNCAP, 13-H, ECE R140, KMVSS14, NHTSA
Brake conditioning
Tyre conditioning
Dwell Sine
FMVSS-126, EuroNCAP, 13-H, ECE R140, KMVSS14
Fishhook
NHTSA
Lane Change
ISO 3888-1/2
Brake in a turn
ISO 7975
Power Off
ISO 9816
Power On open loop
Free Steer
ISO 17288-1
Cross Wind
ISO 12021-1
Lap Timing
Lap Timing
Contact with our Customer Manager:

Sara Gahete
Product Coordinator Data Analysis
View full details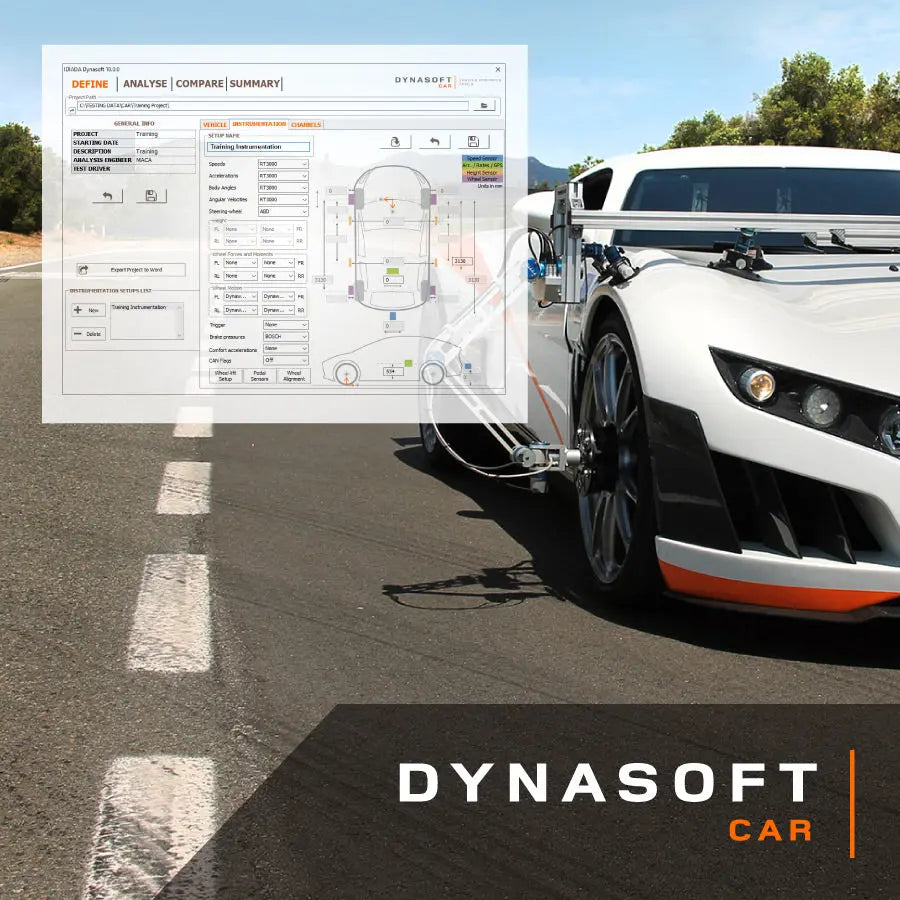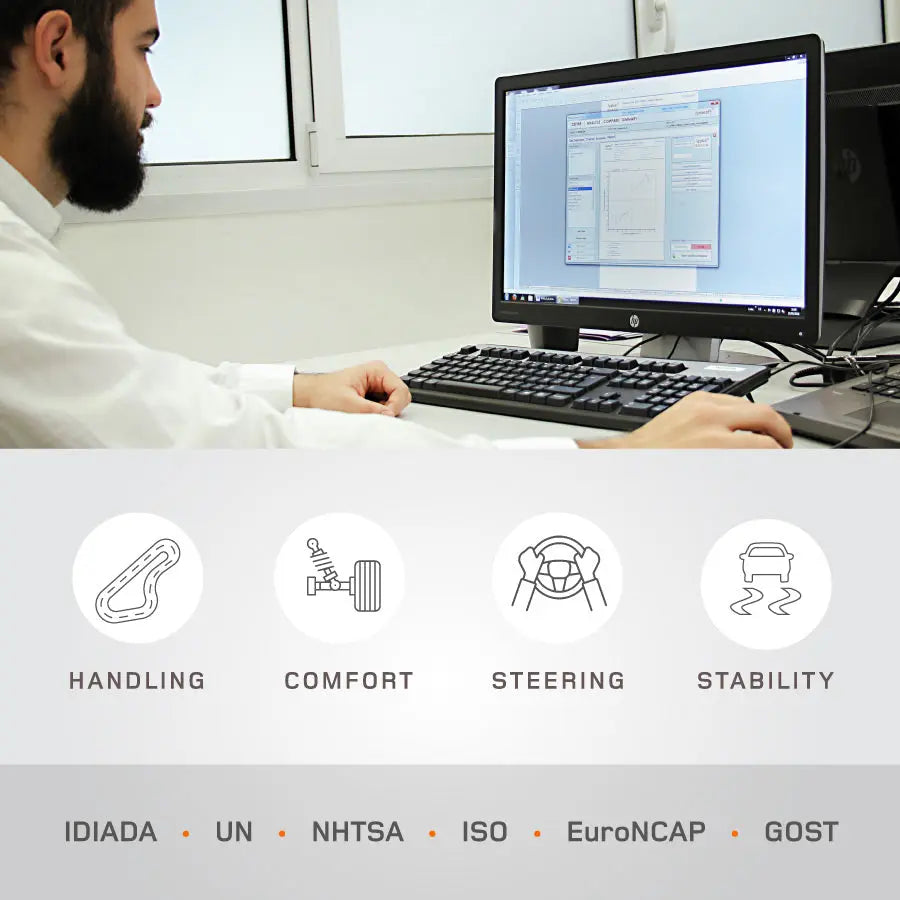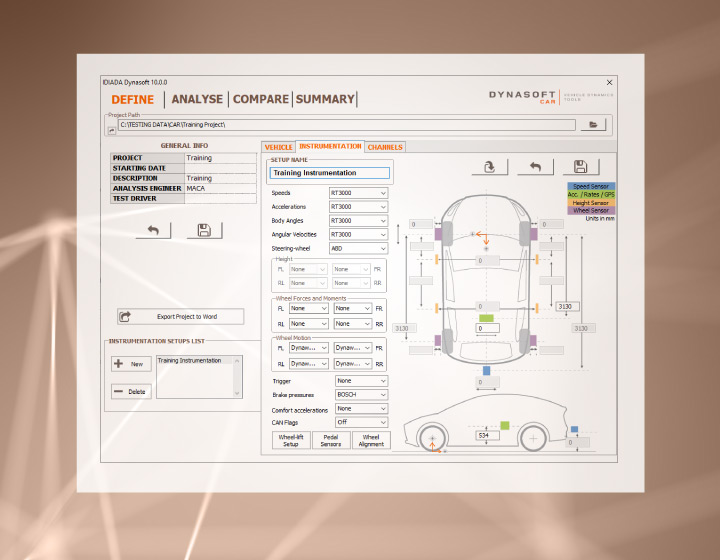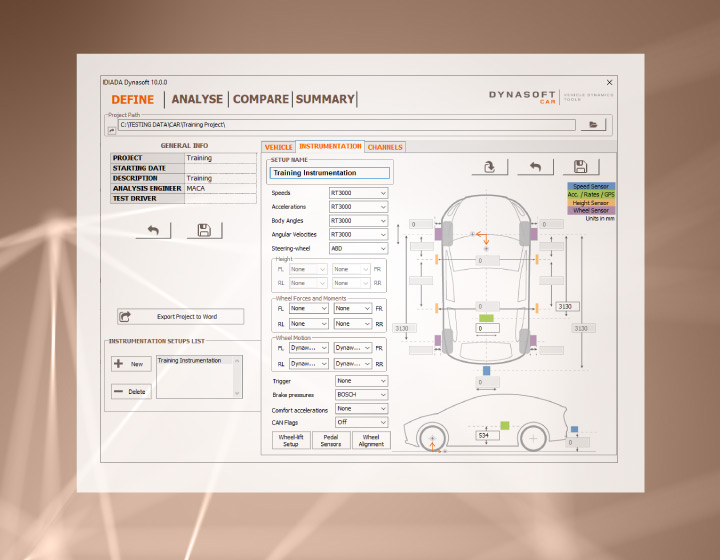 Set up
Intuitive user interface to set up all the sensors fitted to the vehicle
Pre-configuration of industry-standard sensors for efficient set-up
Compatibility with outputs from the most common industry data loggers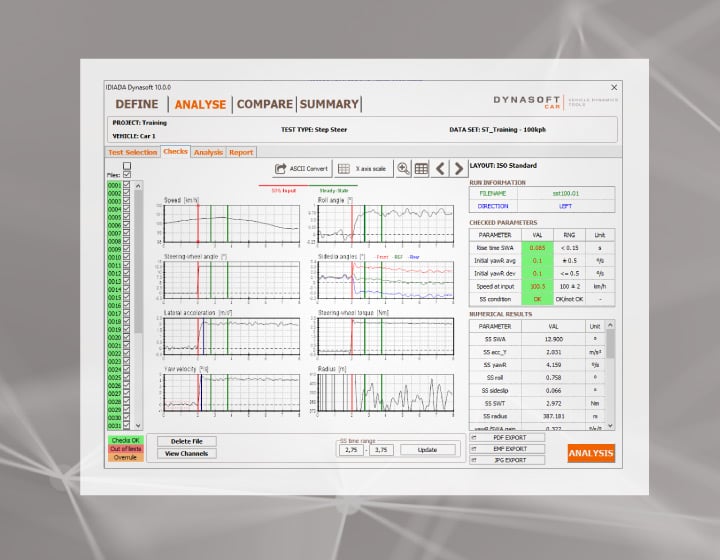 Data check and validation
Visual inspection of time series
Automated checking of specific test requirements
Quick overview of conformity of all test runs, including numerical results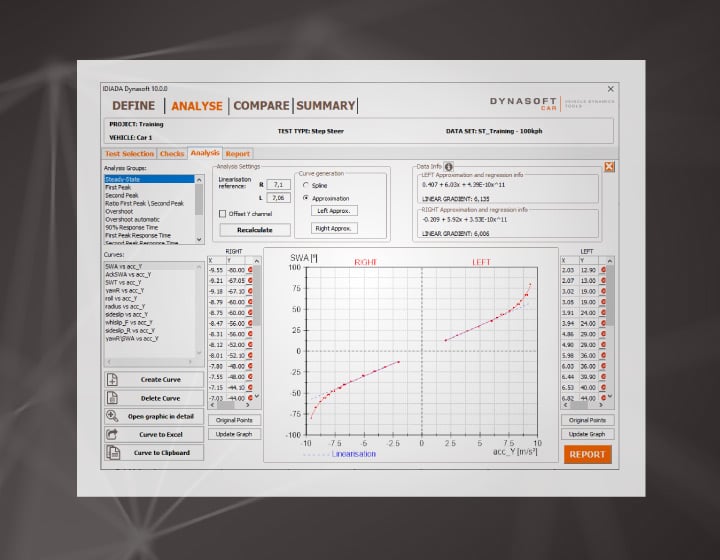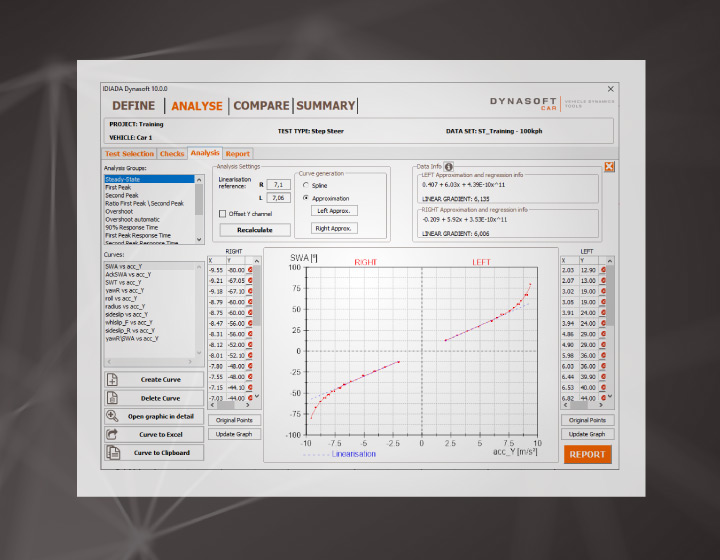 Analysis
Comprehensive plots including frequency domain, scatters, line plots, and time histories
Specific IDIADA developed function library for curve fitting and metric calculation
Configurable comfort analysis to suit any road inputs
More than 200 additional KPIs developed by IDIADA's experts for detailed performance characterization and correlation with subjective data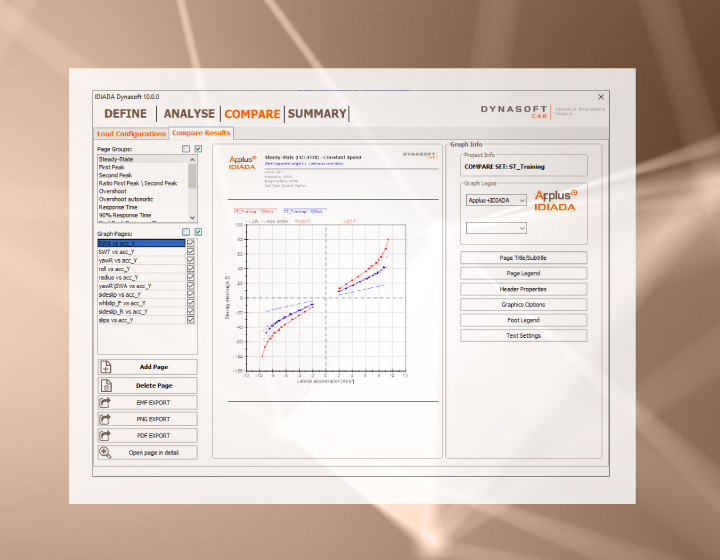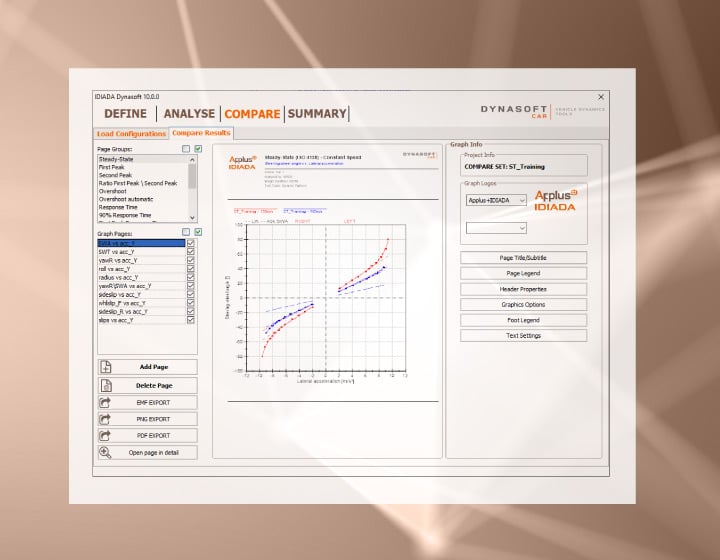 Reporting
Comparison of datasets results and conditions
Configuration of report pages contents including plots and metadata
Customization with corporate logos and vehicle logos
Data export in the commonly used formats for easy data exchange
> More than 200 additional KPIs

developed by IDIADA experts

>38 different test-cases

for full vehicle characterization

<5min to analyse and report
Ready to learn more about our product?
Contact our Customer Manager:

Sara Gahete
Product Coordinator Data Analysis