IDIADA's Multi-standard Charging Test System (MCTS) is a modular test system for EV and EVSE emulation, capable of using all charging protocols. The system will provide a large number of test cases to validate the Device Under Test (DuT).
Modular and customizable system to meet the needs of the test engineer
EV and EVSE emulation capability for worldwide standards
Pre-defined regulatory test cases for ease of use and validation
MORE INFORMATION

Running a Real-Time Operating System (RT OS) based on Linux, the MCTS implements a communication stack developed by IDIADA for the charging protocols. In addition, the system uses an FPGA for deterministic timings and critical control handling as the high-power module and contactors. Other features integrated into the main processing module are:
- Ethernet interface to communicate with the PLC module
- Digital input/output to control PCB circuits and implement the low-level communication
- Analog measurement of those low-level signals and the power lines
- CAN interface, to communicate with the Battery Simulator Module

In order to fully emulate the charging system, specific electronic circuits are required following the covered standards. Therefore, IDIADA designed PCBs to implement those circuits and the necessary functions for testing purposes. The PCBs include:
- Implementation of the above-mentioned low-level communication circuits
- Simulation of hardware failures of charging signals
- PLC module (HPGP) pre-programmed as EV to handle the V2G session and SLAC communication
- Necessary adaption for voltage and current measurement

The system implements several safety-related components to prevent possible human or material damage. Some of these safety features are:
- MCBs
- Emergency stop button
- Power supply circuit breaker
- Watchdog for CAN communication with the power module
- Fuses
- Interlocks in all the connectors
- Safety relay
- Isolation monitoring device to check for DC insulation failure

TECHNICAL DATASHEET

Technical features
Linux based real-time with integrated FPGA
More than 400 test cases based on regulations and know-how
Control and power measurement
High-voltage safety related tests
Integrated V2G analyser
Integrated safety device
Auto-results software
Simulation on specific models
Suported protocols
CCS type 1 and type 2
DIN 70121, DIN 70122
ISO 15118 -2, ISO 15118 -4/-5
IEC 61851 -23
CHAdeMO
0.9, 1.0.1 / 1.1 / 1.2, 2.0, V2H
GB/T
27930 v2011, 27930 v2015
AC mode 3
IEC 61851-1
SAE J1772
GB/T 18487_1
ISO 15118
OppCharge
Plug and Charge with TLS
Contact with our Customer Manager:

Laia Edo
Electric Vehicle Charging Coordinator
View full details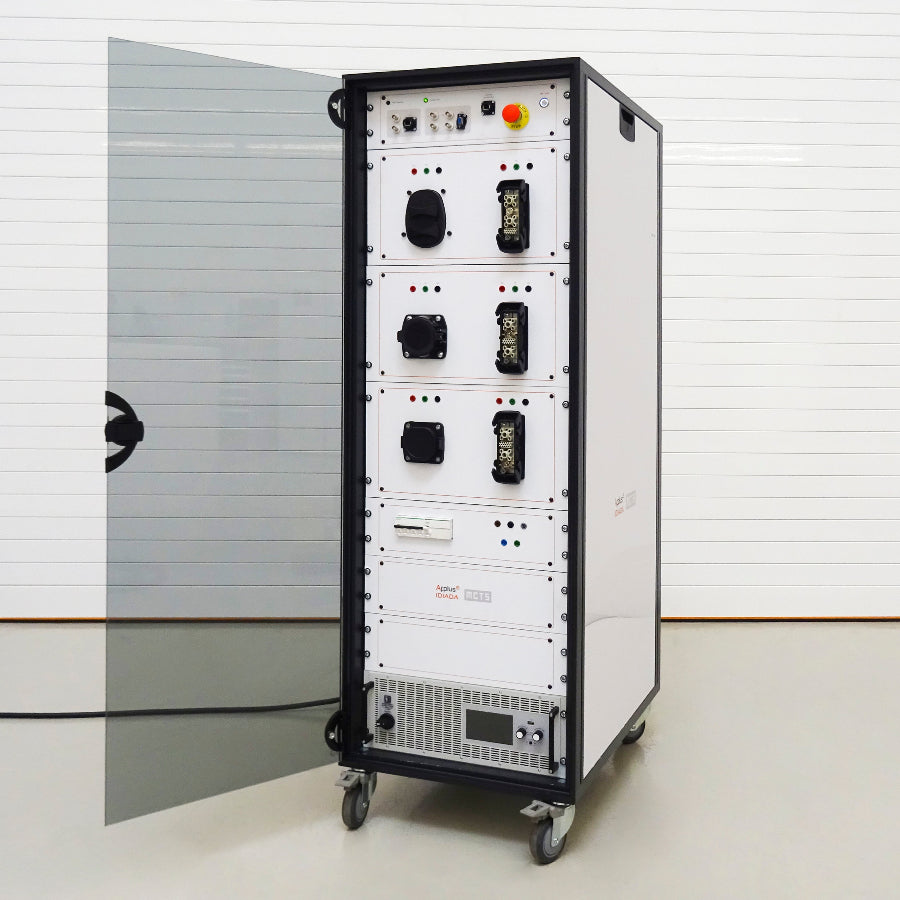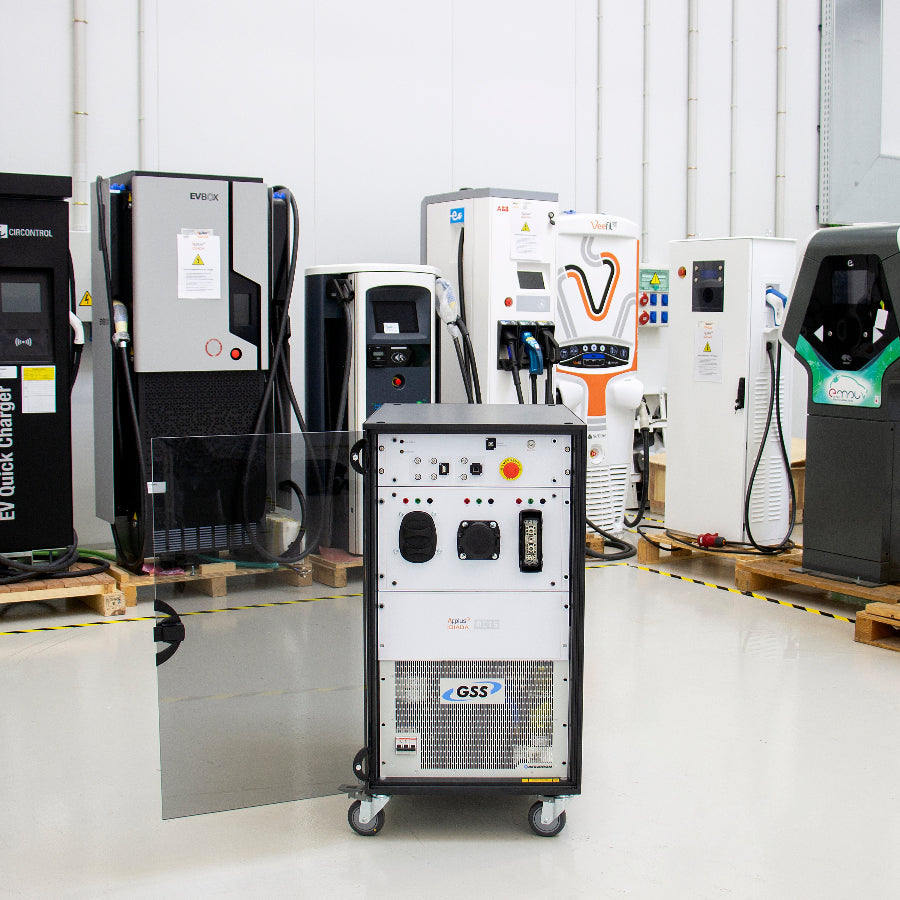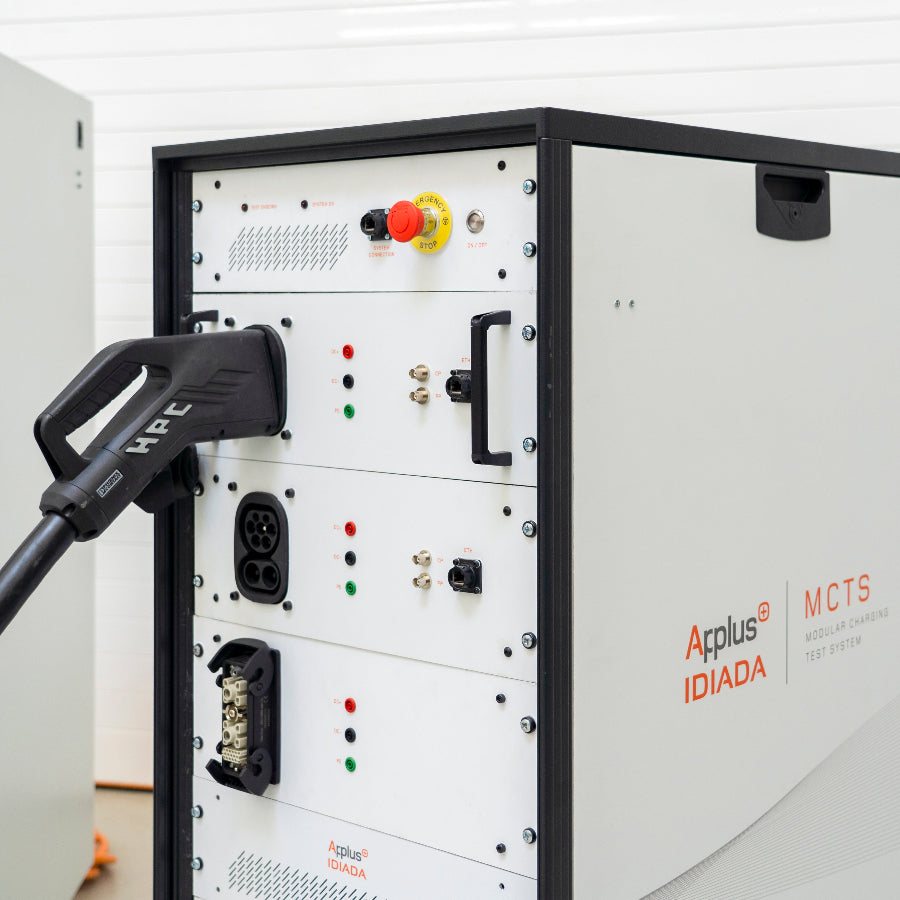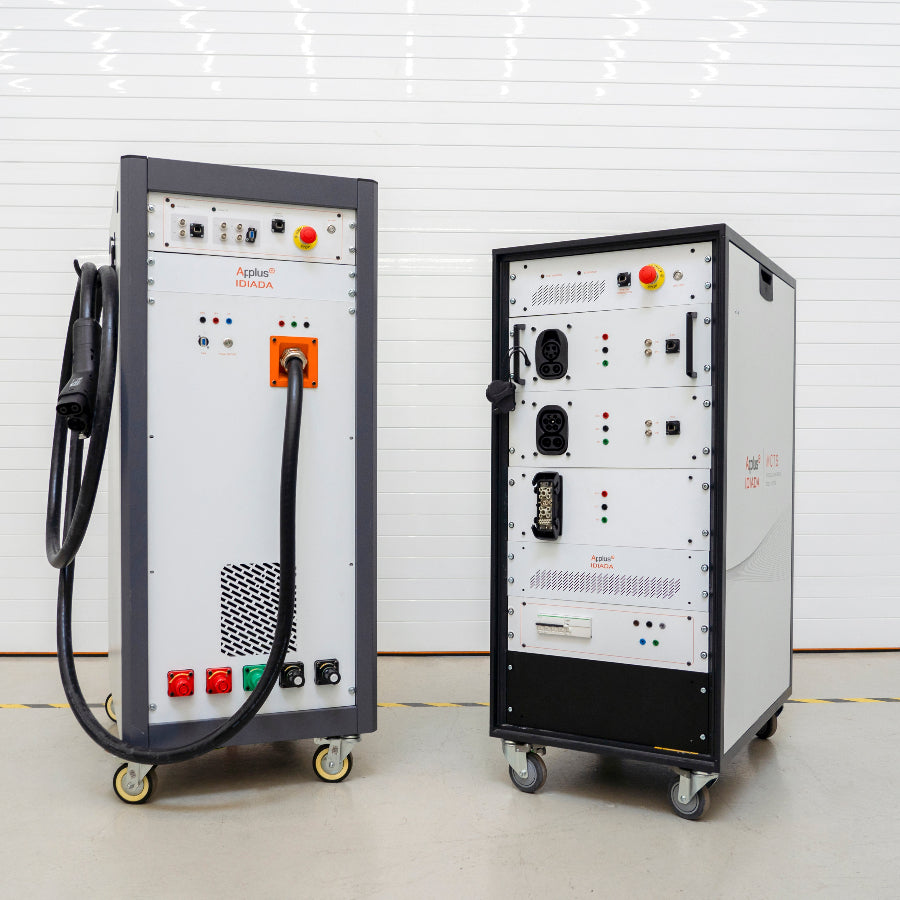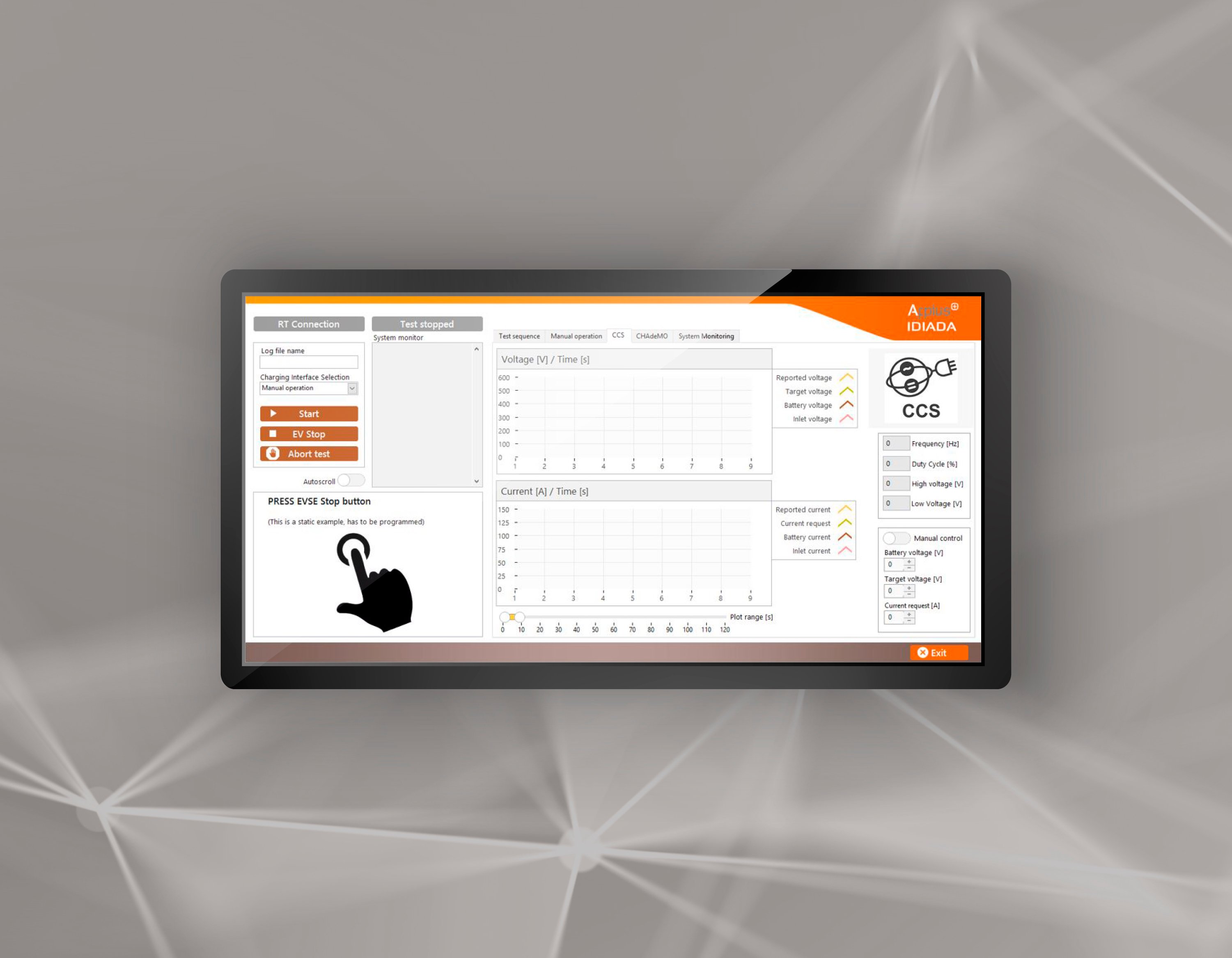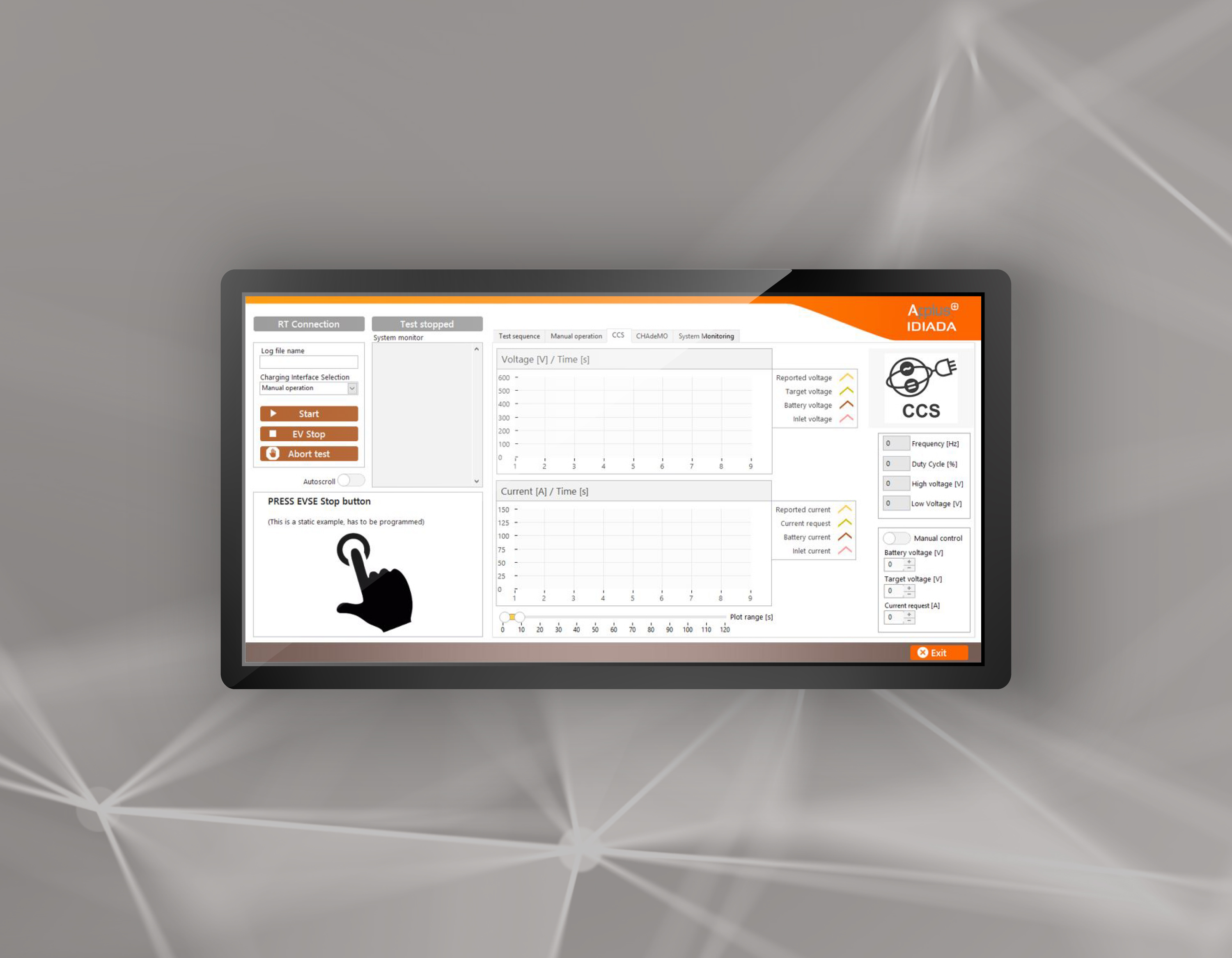 User-friendly test system
HMI can be installed into as many computers as needed without extra cost/license

Real-time graphs and measurements
Pre-defined test cases
Test case concatenation on a list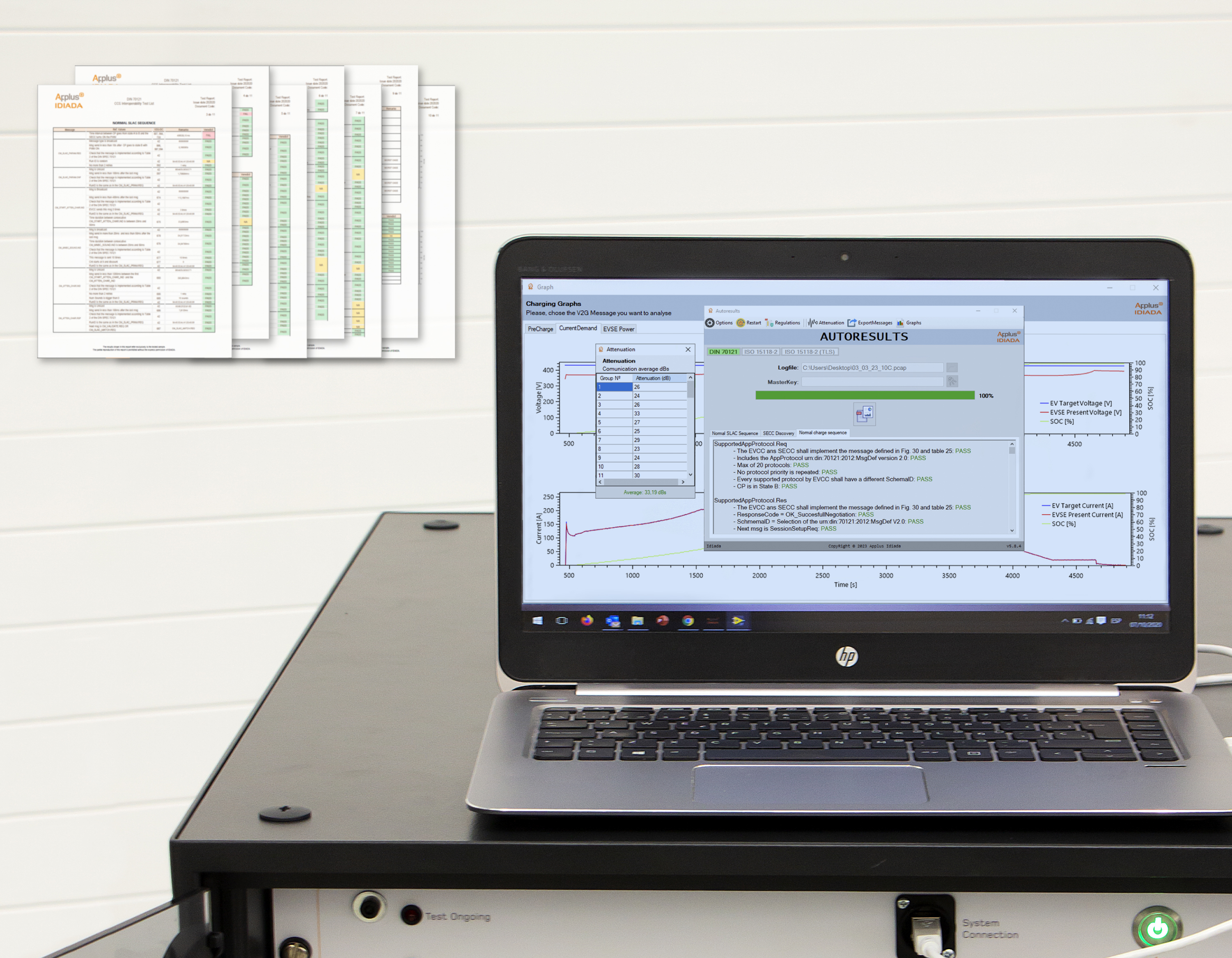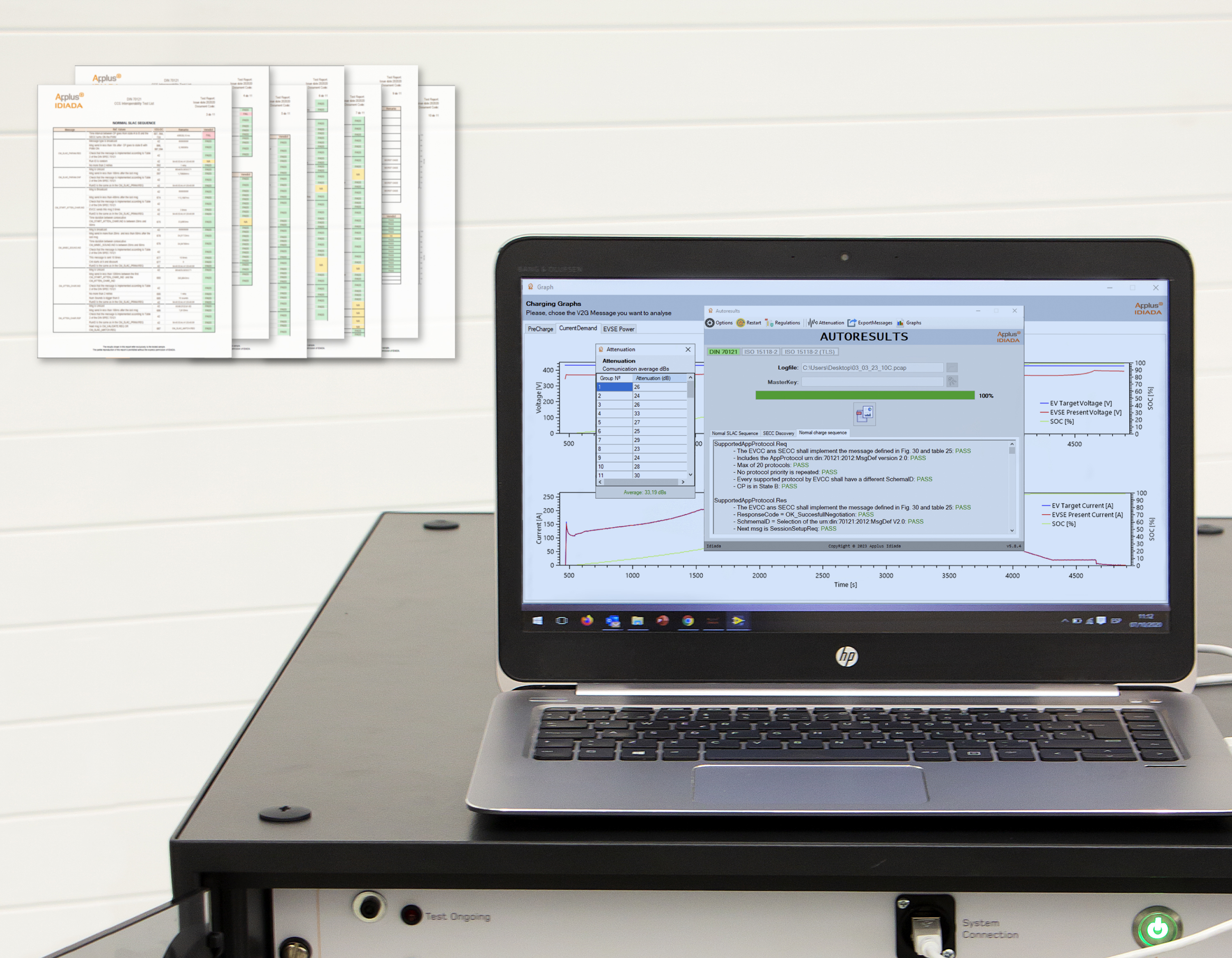 Automatic reporting
Automatic filled reports that can be exported to Excel or PDF

DC voltage and current graphs, communication graphs, etc.
Automatic analysis of messages content and timings
Checks of CP values and power lines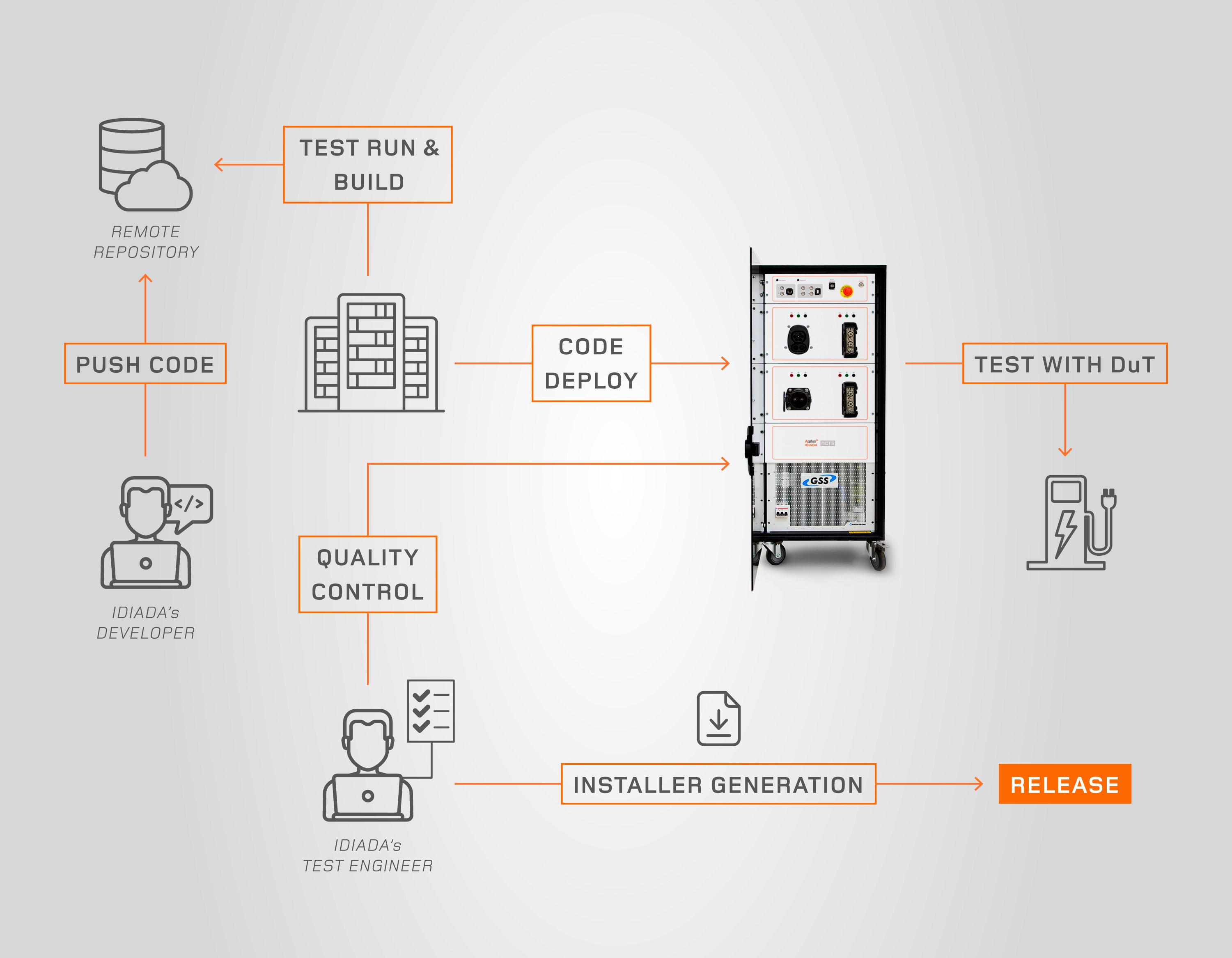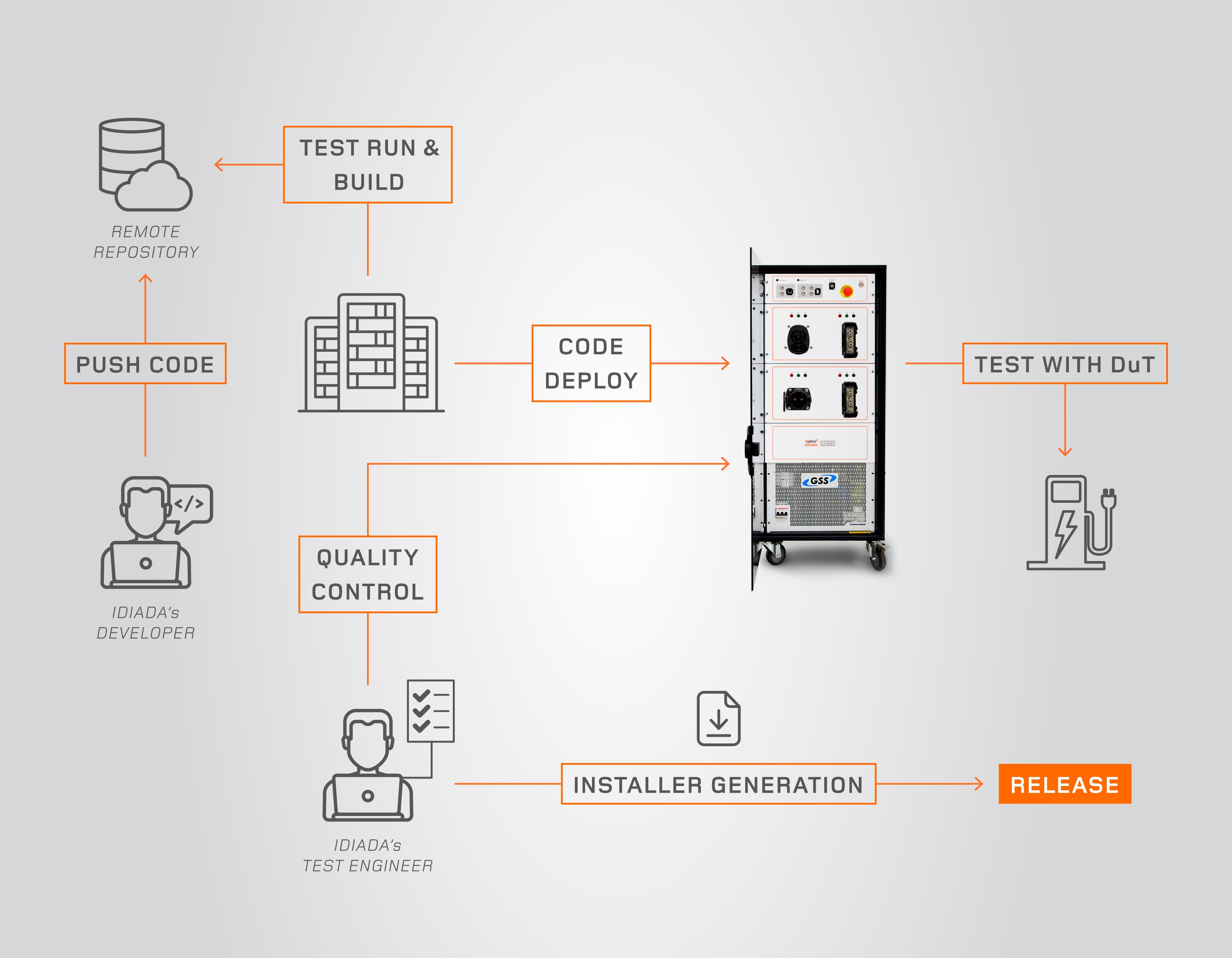 Continuous Integration
New regulations, versions, or corrections

Upgrading and adding user functionalities
Addition of new test cases
System related features/optimizations
Releases are shared remotely and installed by the user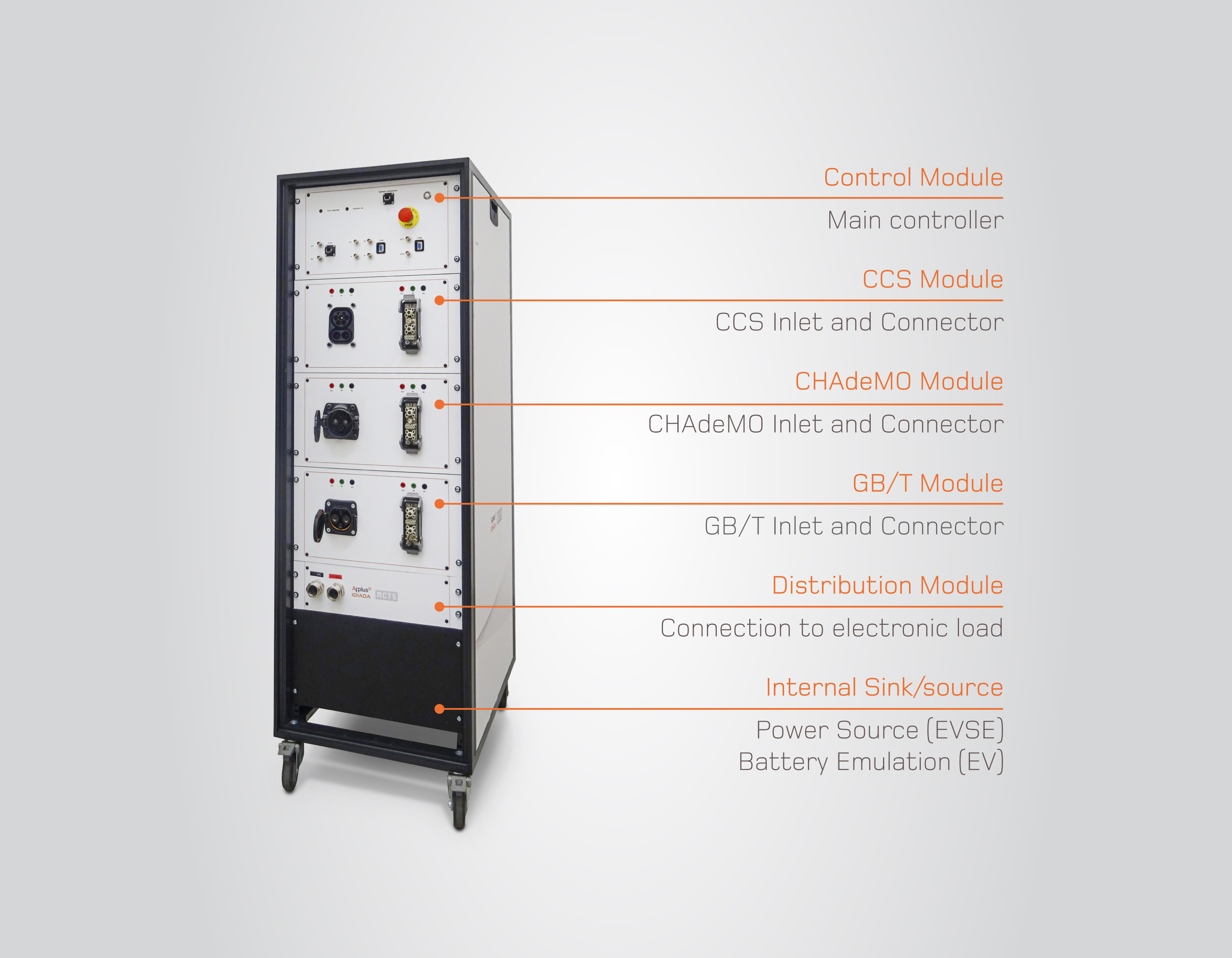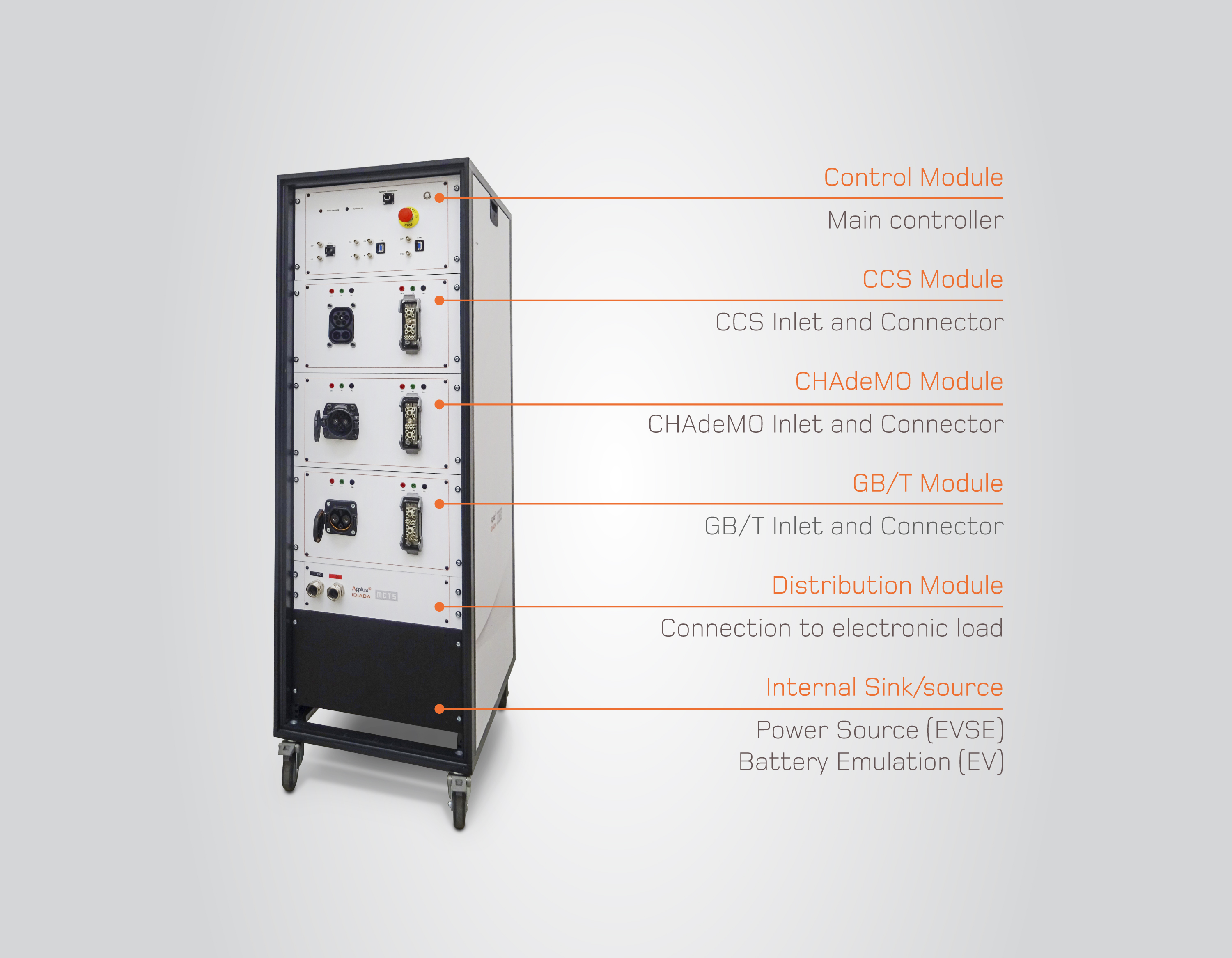 Modularity
Standalone power system or configuration with existing DC power equipment

EV and EVSE emulation mode switchable
PLC, CAN and WLAN communication capability
Break-out box mode for data acquisition between real EVs/EVSEs
Power integration from 0 kW to 500 kW DC
EV and EVSE emulation capability

Pre-defined regulatory test cases

Modular and customizable system

to meet the needs of the engineer
Ready to learn more about our product?
Contact our Customer Manager:

Laia Edo
Electric Vehicle Charging Coordinator
IRIS (IDIADA's Regulatory Information System) - FAQs
What is the MCTS (Multi Charging Test System) offered by Applus IDIADA?

The MCTS (Multi Charging Test System) provided by Applus IDIADA is an advanced testing solution designed for evaluating the performance and compatibility of electric vehicle (EV) charging systems and charging stations. It is a comprehensive tool that enables manufacturers, testing laboratories, and regulatory bodies to conduct rigorous tests and validations of charging infrastructure components, ensuring their reliability and adherence to industry standards.
What are the key features of the MCTS?

The MCTS offers several key features to support comprehensive testing of charging systems. It provides a flexible and modular setup that allows users to simulate various AC and DC charging scenarios, including different charging protocols, communication standards, power levels, and vehicle/charger types. The system enables the measurement and analysis of important parameters such as voltage, current, power, and communication signals. Additionally, the MCTS offers user-friendly software interfaces for test control, data visualization, and result analysis.
Who can benefit from using the MCTS?

The MCTS is beneficial for a range of stakeholders involved in the development, manufacturing, and certification of EVSEs. EV and EVSE manufacturers can utilize the MCTS to validate the conformance and performance of their products before market release. Testing laboratories can use the system to perform comprehensive evaluations and certifications of charging infrastructure components, ensuring their compliance with international standards. Regulatory bodies and certification authorities can rely on the MCTS to assess the safety and reliability of charging systems and establish industry guidelines. Overall, the MCTS serves as a valuable tool for enhancing the quality and compatibility of EV charging systems, ultimately benefiting EV manufacturers, charging infrastructure providers, and end-users.